Thomas Warfield's Solitaire Games
Hi, I am Thomas Warfield, inventor and player of solitaire games. I have invented hundreds of different solitaire games. I wrote Pretty Good Solitaire, a collection solitaire games you can play on Windows, Mac, or iPad.
Here you will find information about my original games and the solitaire games I created, where you can download them, or play Solitaire online.
Learn more about Pretty Good Solitaire »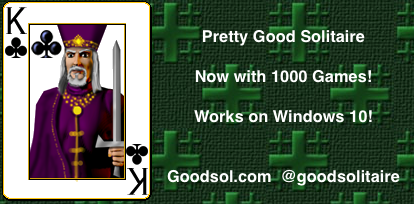 Download FreeCell, Klondike, and Spider Now, and over 1000 other solitaire games for Windows 10!